Practitioners & Therapists
Are you a therapist or practitioner or would you like to know more about how you can train? Then the following resources may be of interest to you:
"Clear Thinking" Free Therapy Techniques
Uncommon Practitioners TV
Uncommon Practitioners is the World's first online visual learning platform for continuing professional development.
There are over 100 videos in there, including live client sessions, technique demonstration videos (filmed with actors) and a whole course on simplifying therapy and psychology which is really confidence-boosting.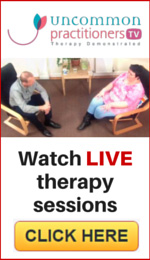 The above resources are free to join. If you do buy through my affiliate link, I will get a commission but I'm only recommending it to you because I use it myself and think you will get a lot out of it.